The Hydr water fountain inspires your cat to drink more clean water, giving your cat a healthier drinking experience. Beautifully designed to fit any interior and fully automatic, we have made sure the Hydr water fountain is a worry-free product.
5 reasons to buy the Hoopo® Hydr SMART water fountain
Do you find it difficult to convince your cat to drink water from his food bowl? Does your cat try to dip his paws into the water bowl and then get sick of drinking?
Then Hoopo® Hydr is the right choice for your cat. Water that flows like a stream is what cats like best, and as true cat lovers, we like to think with our cats. The Hoopo® Hydr water fountain provides clean, flowing water, so your cat drinks more clean water!
In this blog, you will discover why good drinking behaviour in cats is important and 5 reasons why the Hoopo® Hydr SMART drinking fountain is the right solution for your cat.
Why is correct drinking behaviour important in cats?
You might be wondering why, as a cat owner, you need to focus on your cat's drinking behaviour. After all, giving a bowl of water should be enough, right?
We have to disappoint you; cats are known to be somewhat stubborn when it comes to their drinking behaviour. Some cats like to dip their paws in the water bowl, while others again won't drink water that is too close to their food bowl. Also, some cats refuse drinking water from plastic or metal containers. These quirks can be challenging for you as a cat owner.
Ultimately, you want your cat to be happy and make sure he leads a healthy life. Therefore, ensuring a healthy drinking situation for your cat is an important aspect of your cat's overall well-being.
Let's look at some of the risks of not giving your cat a good source of water.
Dehydration: If your cat does not drink enough water, it can lead to dehydration. As a result of dehydration, your cat may develop more serious problems, such as bladder problems and urinary tract disorders. In the worst cases, this can lead to tumours, a ruptured bladder or bladder stones. These stones in your cat's urinary tract can cause life-threatening urethral blockages.
Bacteria, parasites and viruses: Another important aspect to keep in mind is making sure your cat drinks clean water. A dirty water bowl can lead to accumulation of bacteria, parasites and viruses that are not good for your cat. Especially in stagnant water bowls, these seem to thrive. Experts therefore recommend using a water fountain for your cat to ensure the water is as clean as possible.
As you can see, ensuring healthy drinking behaviour in your cat should be a top priority as a cat owner.
However, you may encounter some of the problems mentioned above, and it may not be so easy for you to keep your cat well hydrated.
If that's the case, read on, because our Hoopo® Hydr SMART water fountain might just be the solution you're looking for.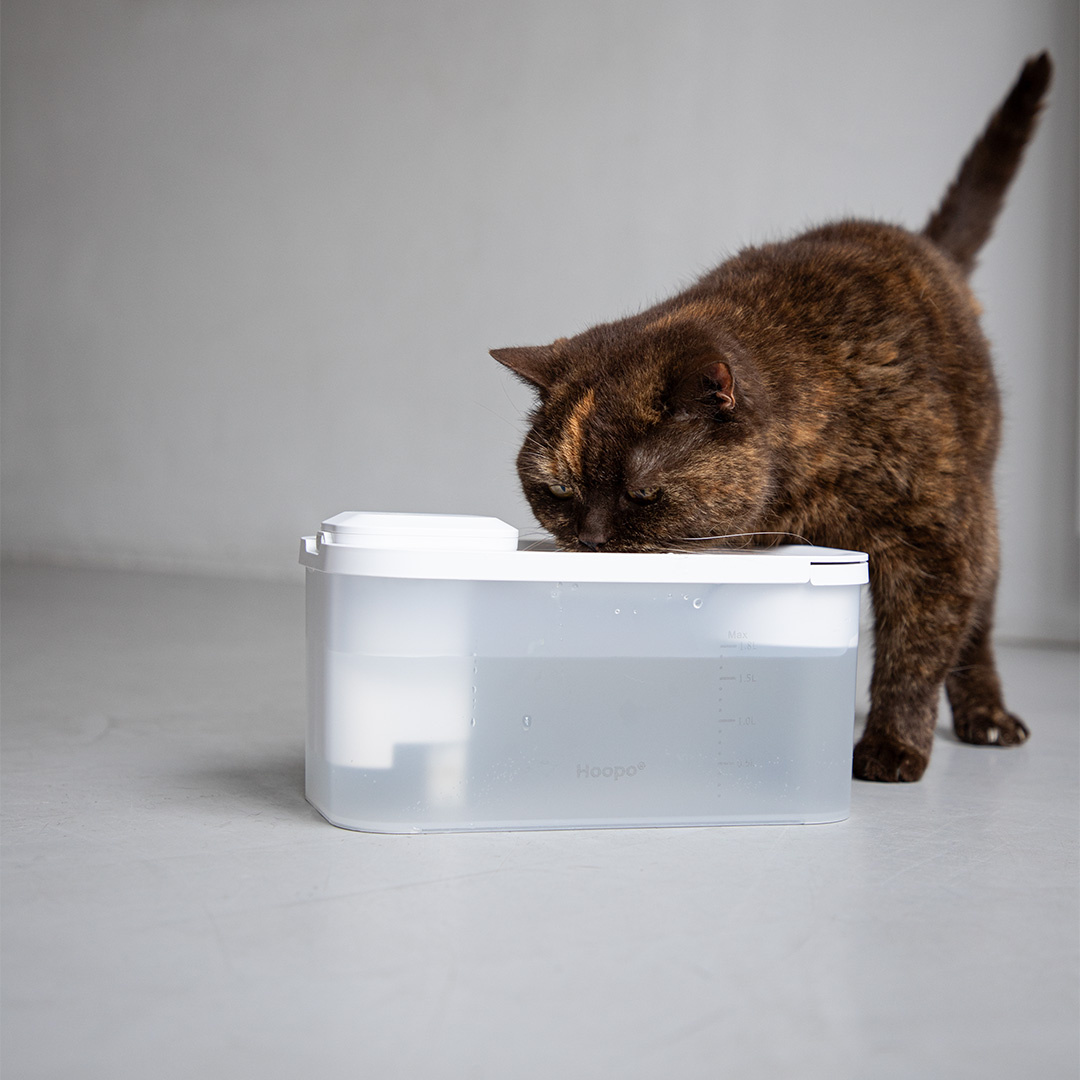 5 reasons to buy the Hoopo® Hydr SMART water fountain
All the problems mentioned earlier in this article are quite challenging for cat owners. At Hoopo®, we continuously try to create innovative solutions that help cat owners find solutions.
Our Hoopo® Hydr SMART water fountain is our answer to the challenge of keeping your cat well hydrated. Discover below our top 5 reasons to purchase the Hoopo® Hydr SMART water fountain:
Reason #1: keeping your cat hydrated
The beautifully designed SMART water fountain provides a flowing source of water for your cat.
In fact, the water automatically runs for 20 seconds every 15 minutes. This unique setting ensures that your cat will not be bored by the constantly flowing water but will feel attracted when the water starts running.
The Hydr water fountain will lead your cat to the drinking water out of curiosity and stimulate your cat's need for hydration by simulating a natural water source. This makes the Hydr SMART water fountain more attractive than a stationary water bowl.
Reason #2: You don't have to refill water every day
A problem we all know is that the water bowl needs to be refilled often, a task easily forgotten at the expense of your cat's health and overall well-being.
With Hoopo® Hydr's 1.8L capacity, there is plenty of water and its large water capacity also makes Hydr perfect for multi-cat households.
Your cat will thank you that he always has access to a clean water source and you will be happy that you don't have to refill the water as often as before. A win-win situation, right?
Reason #3: Cleaner water for better health
Hoopo® Hydr uses ultraviolet sterilisation technology and a filter to provide your cat with the cleanest water possible.
The UVC bactericidal lamp automatically turns on for 10 minutes every 24 hours to remove bacteria, and the water stream runs through a filter to ensure there is no cat hair and other debris in the water.
As we mentioned earlier in this article, the accumulation of bacteria and viruses is one of the biggest dangers for cats. This feature helps solve this challenge and ensures that water quality is at its best for your cat.
Reason #4: Extra comfort and safety for both your cat and you
The ultra Quiet Pump ensures that your cat is not confused by the sound. This helps both you and your cat rest without any disturbance from the sound.
The battery lasts for 14 days once the battery is fully charged, so you can place the water fountain wherever you want, whether there is a power socket nearby or not.
Best of all, both the pump and the battery are located outside the water. The separation of water and electricity ensures extreme safety for your cat while drinking.
Reason #5: Easy to assemble, clean and recharge
Hydr's entire body is made of antibacterial materials. The material prevents bacteria from multiplying and is easy to clean with water.
With one twist, you easily assemble and disassemble Hydr. Three removable quick-release parts ensure easy thorough cleaning of every corner.
Disassemble the part of the water fountain including the battery and charge it easily with the included USB cable.

Want to buy the Hoopo® Hydr SMART water fountain?
Your pet deserves the best. Hoopo® Hydr offers your pet good health, safety and happiness, combined with a modern design. Therefore, take your cat's drinking situation to the next level and order your own Hoopo® Hydr SMART water fountain today!
Order before 10pm today? Then your Hoopo® Hydr will be shipped the same day!