Playing with your cat is a fun way to have quality time with your four-legged friend. At the same time, playing stimulates your pet's physical and mental health. Read our tips for the most fun interaction with your cat here.
Cat toys: Tips & ideas for fun interaction with your cat
Playing with your cat is a great way to strengthen the bond between you and your cat and to challenge your cat both physically and mentally. There are several cat toys to keep your cat entertained for hours. In this blog, we will give you some tips and ideas for choosing the right cat toys.
Benefits of playing together for you and your cat
Try playing with your cat for 10 to 15 minutes every day and you will see that this brings many benefits; for your cat, but certainly for you as well:
Physical health
Playing together for a while every day can be good for your cat's health. You, too, get a little exercise at those moments, which of course can't hurt either.
Stress reduction
Playing with cats can help reduce stress in you and certainly in your cat. Playing helps reduce mental tension in both of you.
Preventing problem behaviour
When cats get bored, there is a chance that they will engage in unwanted behaviour. Think biting or scratching the furniture. Of course, you don't want this! Using this energy in a playful way will make this behaviour disappear faster.
Having fun together
Of course, this is the main purpose of playing. Your bond will strengthen by regularly playing a game together.
Win-win right?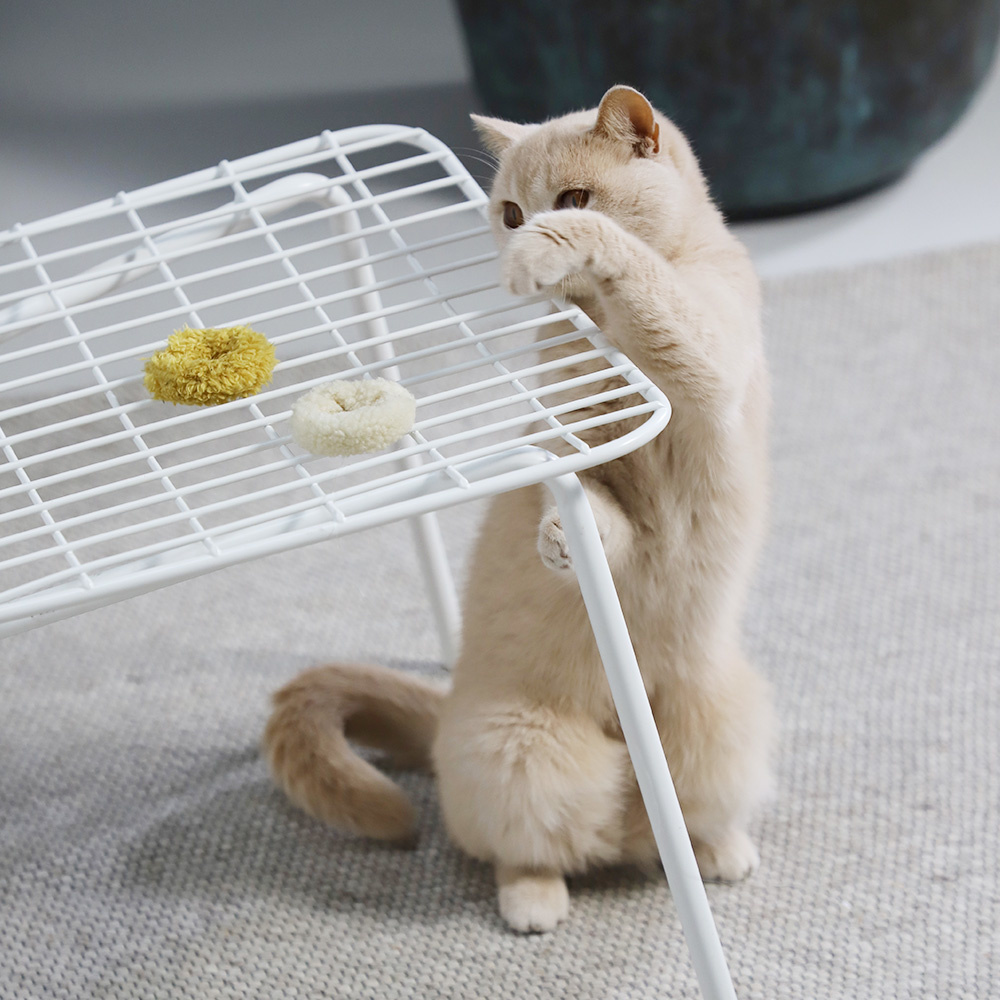 5 tips for playtime fun with your cat
How to have the most fun playing with your cat? Here we share some ideas and tips to have the most fun together:
#Tip 1: High on catnip
Many toys are filled with catnip or catnip. For many cats, it has a euphoric and stress-relieving effect. They get sort of high on it. However, some cats can also react aggressively and some cats do not react to it at all. This is because sensitivity is hereditary. Kittens also do not yet show the typical effect of catnip, sensitivity only develops at the age of six to eight weeks and is not fully developed until around the 12th week.
#Tip2: DIY
The very best thing about playing is that cats like it when you join in. If you play along enthusiastically with your cat, he will be completely unstoppable! You can also easily make your own 'toys' from everyday objects. For example, you can have all the fun you want with your cat friend with a piece of string. Move the rope from side to side and let your cat try to grab the rope. This is a good way to test your cat's strength and entertain him at the same time. Yet another way to entertain your cat: a cardboard box. Cats often like to hide in boxes and explore them, so a simple box can already be a great toy. Sounds simple, but fun guaranteed!
#Tip3: DiversiCATie
Variety is key: cats love variety, so make sure you have different types of toys to choose from. Cats love anything that moves. Think toys that creak, toys with feathers or toys you can throw. It is important to rotate toys regularly to keep their interest and prevent them from getting bored.
#Tip 4: Reward
There are toys on the market where the cat has to work to get the reward, such as a food puzzle or a toy where they have to move something to get a treat. An ideal way to challenge even the more lazy cat to move.
#Tip5: Safety first
Always check that a toy is safe before giving it to your cat. Make sure there are no small parts that can be swallowed and check that the toy cannot break easily.
Always remember that cats are individuals and they each have their own preferences when it comes to games. Try out different types of games to discover what your cat likes best and adjust your play style to keep it fun and interesting.
Tail cat toy
The Tail is a cat toy that combines all the above advice. Your cat can have hours of fun with it, alone or socialising with you. The Tail makes a tapping sound when it is taken out of the vase; that way your cat knows it is playtime. Throw the Tail in front of you or attach it to your trousers while vacuuming: your cat will have a great time.
The Tail has been carefully tested by our cat test panel and, like all of Hoopo®'s cat toys, the Tail cat toy is made of high-quality materials to ensure long-lasting fun.