The part of handling the litter box is probably the only part that is not excellent of having a cat. With some tips, this part could be also an enjoyable experience to make your furry friends happy. A designed litter box is not only a treat for your eyes but also brings a lot of benefits to your cats.
The cat behavior experts agree on it is best to place the litter box where your cats are spending most of their time. Which means it is somewhere near you and would be in your sight. That is why Hoopo® is obsessed with designing beautiful litter boxes which you don't have to hide. And that's the first suggestion there is for placing the litter box.
Don't hide the cat toilet
Some of us would prefer to put the litter box in a hidden corner or in the basement due to the unpleasant odor or awkward looking of the litter box. However, it is not the best idea. Cats can see in the dark but who wants to go potty in an alerting environment. It is better to have the litter box at a place that your cats can have their guards down. Your cat would like to have comfort. They also wouldn't like to walk stairs or a long-distance till they reach the litter box. Don't place the litter box in a dark or far away corner or room.
Not close to Appliances
Also, it might be convenient to put the litter box in the laundry room next to the laundry machine and dryer or somewhere near your dishwasher, heating, or toilet. But your cat probably is very sensitive to the sounds made by these units. These machines make the sounds occasionally which could give the cats a lot of stress.
Away from food
Which is obvious for sanitary reason but also you know your cat is picky.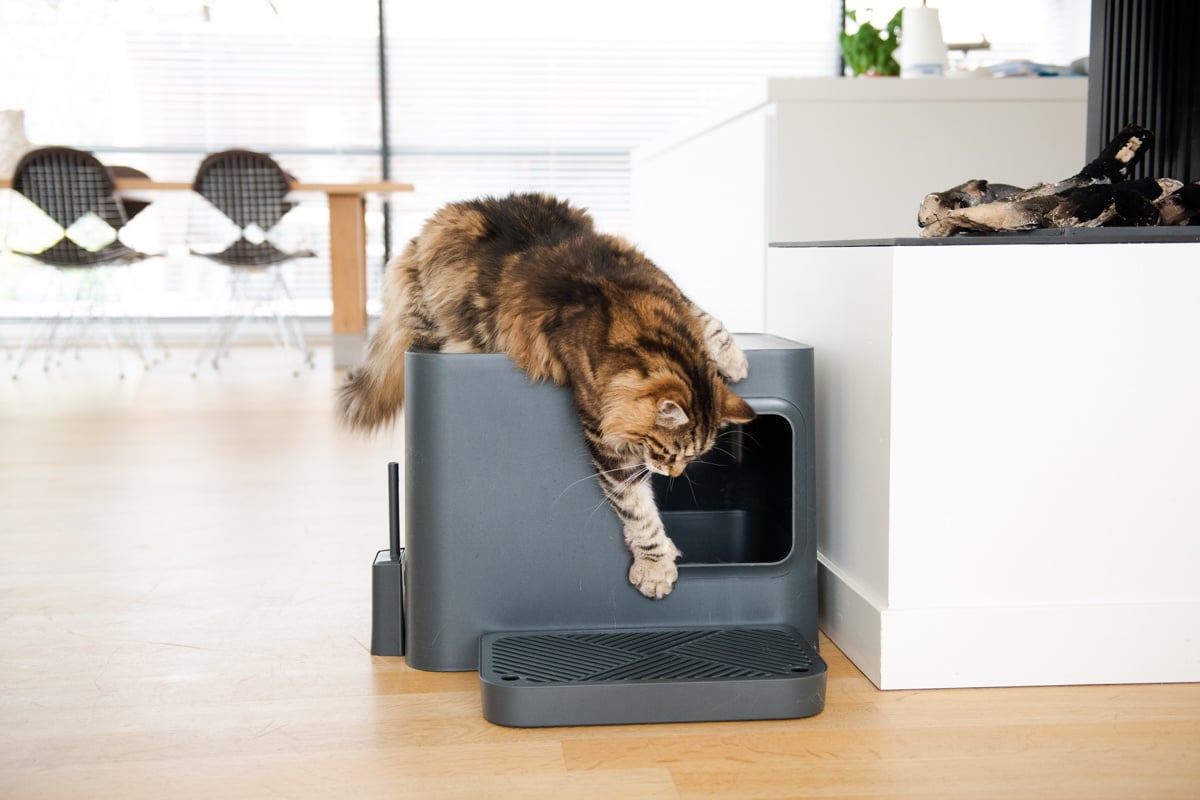 So where to place the cat toilet? The location is a key point.
We would suggest a low traffic spot in the living room. It is important for your cat to have privacy but also you want it to be easily accessible and it is important to be in the area where your cat is hanging around most.  
To have the least doors keep closed is also a rule. Your cat always feels more comfortable with an extra access way. It should be a safe place, moreover, your cat needs to feel it is safe too. A bathroom is also a good choice, however, make sure your cat is not scared from the sounds of flushing or water flows.
Litter Boxes in Multi-Cat Households
If you have several cats and several litter boxes, make sure to keep them apart. The cats have strong feelings over privacy and territory. If multiple litter boxes needed to be set close to each other, it is better to choose closed litter boxes which gives your cat more privacy. 
Purchase the Hoopo® Dome?
Are you looking for the perfect cat litter box? We think the Hoopo® Dome offers the best of both worlds: comfort and functionality for you and your cat, combined with a modern design. That makes both your cat and you happy. Ordering before 10 p.m. today? Then your Hoopo® Dome will be shipped the same day!